Rear trailing arm bushing replacement

« »

9:40 AM 4/28/2010

Reply Edit
---

This will be my 'how-to' install for the RTA bushings on my '95 Civic Coupe'.
(Not sure if the ITR bushings are made of a different material... but the install should be the same)

Fresh bushings:
Honda part number 52385-SR3-000
List price = $58.94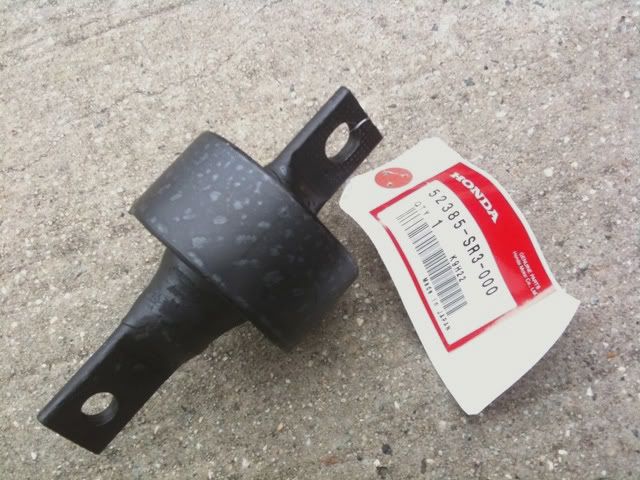 Bushing movements:
The slotted tab (the shorter one) is mounted pointing outboard.
Rotational movement (looking from above) is easy vs. rocking (axially) side to side (looking from the rear) is very stiff.
http://www.youtube.com/watch?v=tP5qBZtxbt4
Method:
$pecial tool (Matco MST6510)/Schley 65100 vs. hammer time vs. press action vs. air hammer>
I am poor so I opted for the hammer + punch method (aka: claw hammer + 3/8"-6" long extension).
Old bushings:
(Actual miles are unkown. My shell was purchased with Integra rear suspension.)
Notice index mark on the RTA. There is an arrow pointing down so that the thicker part of the bushing is on the bottom.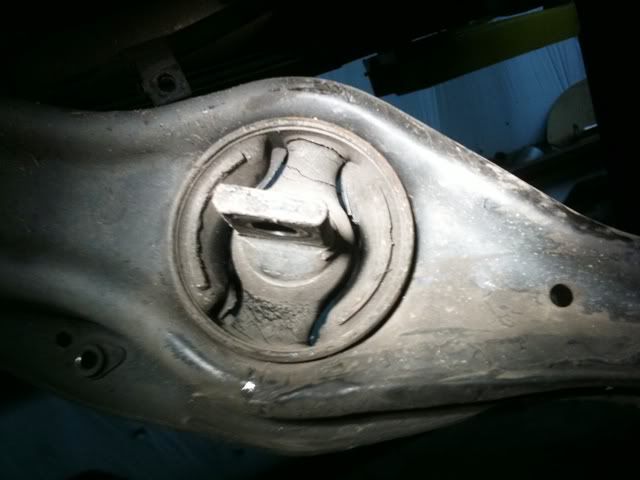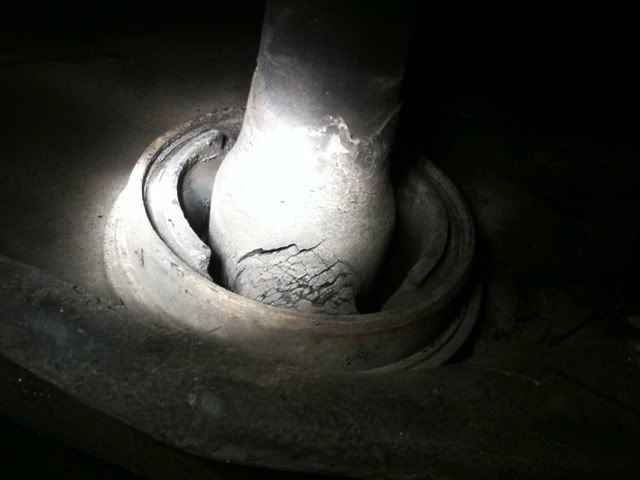 Partially removed (notice index mark on the RTA)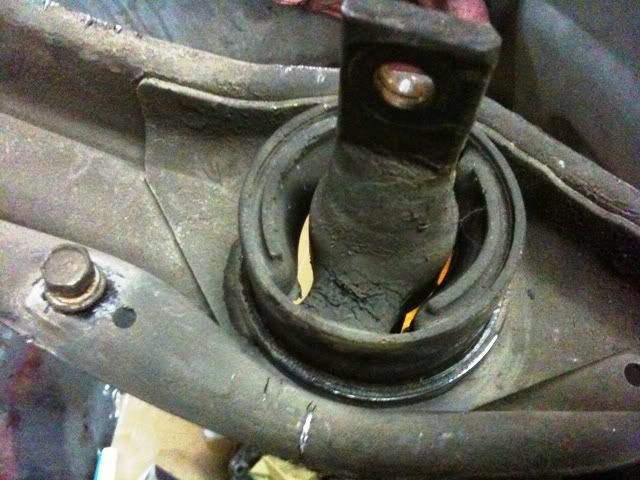 Installation:
Took me about 3 hours to do both sides with the car up on a lift. I removed both arms and hammered the bushings out with a punch and back in just using the hammer.
Step by step:
-place new bushings in the freezer (thermal coefficient of expansion and such)
-grab a Yuengling

-remove parking brake cable (cotter pin/pin/cable clip) and thread it out of the RTA
-remove caliper (2-14mm and the 12mm brake line stay) and secure it out of the way
-remove rotor (philips screws)
-loosen 5 RTA bolts: (2-17mm (RTA bushing) / 3-14mm (front toe adjustment/rear upper arm/rear lower arm). The front toe bolt (the non-adjustable one) is tricky to remove. Since I could not align the car last night I chose to remove the outter bolt to keep the alignment close to where it was.
-remove RTA bolts and detach arm from the car
-mark the orientation of the bushing before removal (mark the RTA to match up with the arrow on the bushing). The side to side location was easy to check for me. I held a straight edge (aka: 3/8"-6" extension
on the outter edge of the bushing and it was the same as the outter part of the RTA (on the outboard side).
-find a hard surface (vice/etc.) and hammer the bushings out/off (from the outside in) taking care not to bend the RTA
-clean the RTA opening
-remove the new bushing from the freezer
-hammer new bushing in (from the inside out) taking care to make sure that they are correctly positioned (short tab outboard/arrow pointing down to match your mark on the RTA)
-once seated... inspect for correct bushing positioning and install RTA.

-"set" the suspension before tightening the 5 bolts down
-repeat on the other side
-test drive
Installed:


Hammer marks are purely cosmetic in nature.

Bonus picture:
(please don't laugh at the 'drop zone' 350# coilovers)


It was either this or a picture of the DB9 Volante that was there.
Feedback:
-The rear end feels crisper/frimer and the cold weather rubber squeak from the rear is gone.

-Initial steering tip-in feels more controlled and smoother. :shrug:

-It is hard to explain but the difference was most noticable going over the rail road tracks this morning.

Modified by Willard at 12:20 PM 6/8/2011
---
'84 242ti (metal work underway...)
'97 C280 Benz0
'04 Pilot EX
'08 Fit sport
#01-0154 PY = sold